Where to Cut Your Own Christmas Tree in South Jersey
20 Christmas tree farms where you can cut your own tree in South Jersey
By Hayley Banks
Spruce Goose Christmas Tree Farm, Chesterfield, NJ
Photo from Spruce Goose
Choosing the family Christmas tree is classic holiday tradition. Here are local South Jersey farms where you can cut your own tree, then stick around for activities such as Santa visits, farm animal meet-and-greets, gift shops and complimentary food and drinks.
Atlantic County
Address: 723 W Hershel St., Egg Harbor City NJ
Hours: Fri.-Mon., 9 am-4:30 pm
Services: Cut, net, tie
Additional Activities: Complimentary hot chocolate, cookies, Santa visits
Petrongolo Evergreen Plantation
Address: 7541 Weymouth Rd., Hammonton NJ
Hours: Start Nov. 29
Additional Activities: Hayrides, hot chocolate, cookies, gift shop
Burlington County
Farmer Jack's Christmas Trees/Halloween/Home Grown Produce
Address: 150 Route 530, Vincentown NJ
Hours: From Nov. 29, 9 am – 8pm
Additional Activities: Horse and pony carriage, Santa visits, s'mores, farm animals
Address: 111 Tuckerton Rd., Medford NJ
Hours: Nov. 29– Dec.1, 9:30am to 3pm
Tree Varieties: Fir: Balsam, Fraser; Spruce: Blue, Norway
Services: Cut & delivery
Address: 133 Church Rd., Medford NJ
Hours: Mon.– Sun., 8am – 6pm
Additional Activities: S'mores, marshmallow roasting, Santa visits, hayrides, cookie decorating, cafe

Spruce Goose Christmas Tree Farm
Address: 194 Bordentown Georgetown Rd., Chesterfield NJ
Hours: Nov.23 – Dec.22; Thurs. – Mon., 9 am to 5 pm; Closed Tues. & Wed.
Tree Varieties: Fir: Douglas, White, Fraser, Canaan; Pine: Scotch, Eastern White; Spruce: Colorado Blue, Serbian, Norway
Services: Net, bail, tie, cutting/loading assistance, wagons and saws provided
Address: 375 Farnsworth Ave., Bordentown NJ
Hours: Starting Nov. 29, Mon –Thurs., 5 to 8 pm; Fri., 12 to 8pm, Sat., 10am to 8pm; Sun. 10am to 6pm
Tree Varieties: Fir: Frazier, Balsam, Douglas
Additional Activities: Santa visits, gift shop
Address: 2881 Route 206, Columbus NJ
Hours: Wed.– Sun., 9am to 5pm
Additional Activities: Horse and carriage rides, food truck, s'mores, bonfire, Santa visits, gift shop
Cumberland County

Marlboro Farm Market & Garden Center
Address: 601 Quinton-Marlboro Rd., Bridgeon NJ
Hours: Fri., 1 to 5 pm, Sat. & Sun., 9am to 5pm
Additional activities: Hayride, farm market, bonfire
McDermott's Christmas Tree Farm LLC
Address: 130 Roadstown Shiloh Rd., Shiloh NJ
Hours: Nov.29–Dec.24; Mon.–Thur., 1 to 5pm; Fri.–Sun., 9am to 5pm
Tree Varieties: Fir: Fraser, Balsam
Additional activities: Gift shop, apple cider

Van Meter's Christmas Tree Farm
Address: 360 Walters Rd., Bridgeton NJ
Hours: Nov.30–Dec.22; Mon.–Tues., 1 to 5pm; Fri.– Sun., 10am to 5pm
Trees Varieties: Fir: Douglas, Fraser; Spruce: Blue, Norway
Services: Net, transportation
Gloucester County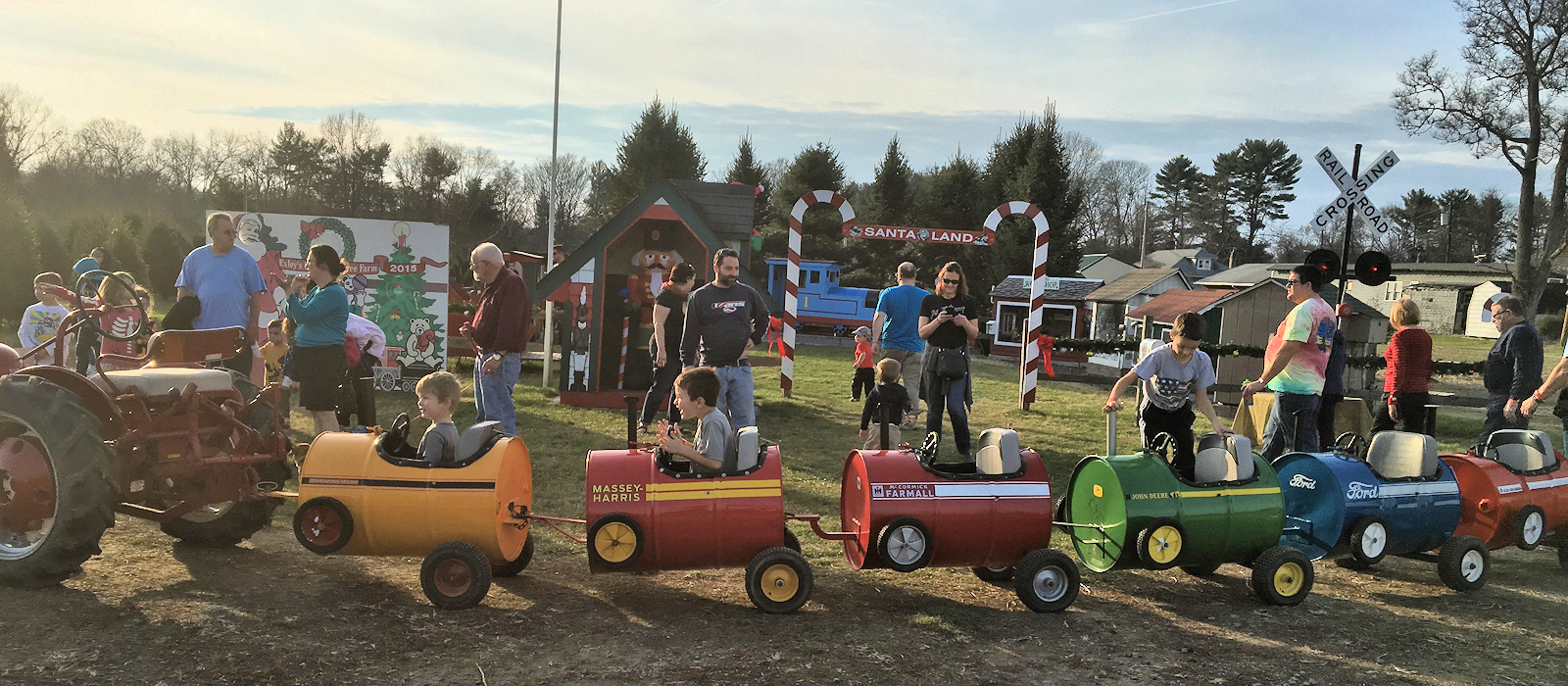 Exley's Christmas Tree Farm #1
Address: 1535 Tanyard Rd., Sewell NJ
Hours: Nov. 30–Dec. 22; Mon.–Sat., 9am to 8pm; Sun., 9am to 5pm
Tree Varieties: Fir: Douglas, Canaan; Spruce: Blue, Norway; Pine: White
Services: Net, tie
Additional Activities: Hayrides, Santa visits, train rides, holiday tree house, Santa Land
Kozy Acres Christmas Tree Farm & Apiary
Address: 501 Fairview Rd., Glassboro NJ
Hours: Nov. 29–Dec. 21; Mon–-Sun., 10am to 4pm
Tree Varieties: Fir: Douglas, Concolor, Fraser; Spruce: Colorado Blue, Norway
Services: Cut, bale, transportation; no customer saws allowed

Belly Acres Christmas Tree Farm
Address: 665 Royal Ave., Franklinville NJ
Hours: Nov. 29–Dec.24; Sat.–Sun., 10am to 4pm
Services: Cut, bale
Triple Dog Dare You Christmas Tree Farm
Address: 101 Idle Lake Rd., Franklinville, NJ
Hours: Sat.–Sun., 11am to 3pm
Additional Activities: Sleigh rides
Ocean County
Address: 1250 Lacey Rd., Forked Road NJ
Hours: Fri., 12 to 6pm, Sat.–Sun., 10am to 4pm
Additional Activities: Pony & train rides, fire pits, hot chocolate & s'mores, cookie decorating, gift shop
Address: 32 Holmes Rd., New Egypt NJ
Hours: Nov. 29–Dec. 25: Sat.–Sun.: 8:30am to 5pm
Tree Varieties: Fir: Douglas, Canaan, Frasier; Spruce: Blue, Norway
Services: Net, cut, tie
Additional Activties: Gift shop
Address: 50 S New Prospect Rd., Jackson Township NJ
Hours: Nov. 26–Dec. 22; Mon.–Fri., 11am to 5pm; Sat.–Sun., 9am to 5pm
Tree Varieties: Fir: Douglas, Spruce: Norway, Spruce, Serbian; Pine: White
Additional Activities: Gift shop
Address: 24 Buckalew Ln., New Egypt, NJ
Hours: Nov. 29; Sat.–Sun., 9am to 5pm
Services: Tree sleds, saws, and measuring sticks provided
Additional Activities: Wagon rides, complimentary hot chocolate, candy canes, coloring books and crayons
Salem County
Exley's Christmas Tree Farm #2
Address: 1512 Monroeville Rd., NJ
Hours: Nov. 30–Dec. 22; 9am to 4:30pm
Tree Varieties: Fir: Douglas, Canaan; Spruce: Blue, Norway; Pine: White
Services: Net and tie
Additional Activities: Sleigh rides, Santa visits, Family Game Area, fire pit, indoor train displays, farm animals